Teeth Whitening in the UK: A Comprehensive Guide to Costs and Procedures
Posted by SHAMSA NAQVI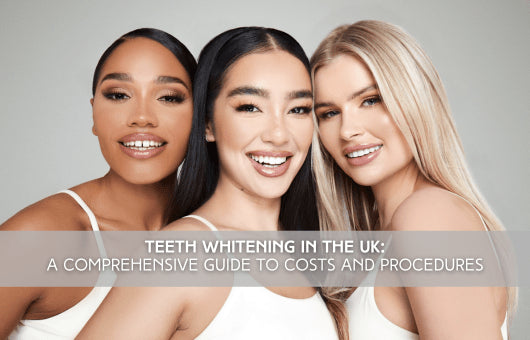 Key points
There are a lot of whitening treatment options in the UK for any budget and need. In-office whitening procedures that use LEDs or lasers are the most expensive treatments. However, they provide instant results and require only one session.

Some dentists also provide a take-home whitening kit which includes a gel and a tray that fits your mouth perfectly. This treatment can also be used in combination with a laser or LED procedure.

Home whitening kits are the most affordable option, and some of them can even compete with professional bleaching. While gel pens and whitening toothpaste may not provide results that are as visible as those from a laser procedure, whitening strips are the best at-home treatment for most people. Whitening strips cause no sensitivity, and they are very gentle both on the teeth and the gums, unlike laser whitening.
If you're thinking about getting your teeth whitened, you need to know what treatment method will be the best option for you. When choosing between teeth whitening methods, the price may be the determining factor for many people. Teeth whitening treatments represent a growing aesthetic dentistry sector in the UK market, and choosing between them may be overwhelming and time-consuming. That's why we've rounded up all the information you need to have about each whitening treatment, along with their cost, so you can compare and choose. 
Types of Teeth Whitening Methods
In order to give you a general understanding of how much teeth whitening costs, we first need to take a look at what treatments are available to patients in the UK. All whitening procedures fall into one of these two categories: those which require supervision by a dentist and at-home treatments.
First, let's go over professional teeth whitening treatments.
LED and Laser Whitening
These in-office treatments are the most expensive option, but they work for those who want to get instant results. During LED or laser whitening, the dentist will apply some bleaching gel to your teeth and use LED or laser light to accelerate the bleaching. While you can make your teeth 2-8 shades whiter in one session with this type of treatment, you should keep in mind that the more intense the treatment, the bigger the chance that you will experience sensitivity afterwards.
The price of this procedure varies from £500 to £1,000. How much you'll pay depends on the system your dentist uses and the number of sessions you will need to achieve the desired result. 
Whitening Gel Tray
This treatment involves using a whitening gel either in-office or at home. With this treatment, your dentist will decide on the peroxide content of the gel based on what your teeth require. Usually, the percentage of hydrogen peroxide in the gel will be between 15 and 43 per cent. If done in-office, the gel will be applied to your teeth for 20-25 minutes, then rinsed off and reapplied after to improve the results. Your gums would be protected by a shielding gel to avoid irritation. However, this intense treatment may result in tooth sensitivity afterwards.
Sometimes, dentists will provide custom trays for at-home use that will fit your mouth perfectly. You'll also get some whitening gel that contains peroxide that you will need to apply to your teeth for around two weeks. Keep in mind that with this method, you will be required to wear the trays for 2-6 hours daily as instructed by your dentist.
At-home custom kits are less expensive and cost between £200 to £400 in the UK. 
Combination Whitening Treatment
Sometimes, in order to achieve faster results, dentists prescribe a combination of different whitening treatments. This way, you should receive both in-office and take-home whitening treatments. Some methods involve the patient getting an in-office treatment first and then using custom take-home trays. Others start with at-home whitening and then finish with power bleaching at a dentist's office.
This treatment usually ranges from £400 to £750 in the UK.
Now, let's take a look at how you can whiten your teeth at home.
At-Home Whitening Kits
Most people stick with at-home whitening kits because they are more affordable and, if used correctly, can provide the same results as whitening treatments overseen by a dentist. At-home whitening treatments can be bought over the counter at virtually any pharmacy or ordered online. Some of these products may contain a small percentage of hydrogen peroxide, while others contain different bleaching agents. 
The prices for at-home whitening products vary from £20 to £200 depending on what type of product you use and its manufacturer. It's best to choose products made in Europe or in the USA since manufacturing standards and conditions are closely monitored and regulated there.
Other Whitening Treatments
When it comes to at-home whitening treatments, the UK market offers a surprisingly huge selection of brands and products. From teeth whitening pens to toothpaste, there are a lot of teeth whitening options that are not as aggressive if you're looking to try something more gentle on the teeth. However, you shouldn't expect to see results that are as instant and visible results as those from professional bleaching, as over-the-counter products contain a smaller amount of bleaching agents. However, this doesn't mean you can't get great results with home whitening methods. In fact, some at-home whitening products available on the market today are comparable to what you would get from professional bleaching at a dentist's office. 
Whitening Strips
Whitening strips are by far the best method to achieve that pearly smile that you dream about. They won't put a strain on your budget, but at the same time, they will provide the same or almost the same results as professional treatment options. 
If you've never whitened your teeth and worry about tooth sensitivity, then whitening strips are perfect for you. For example, Icy Bear whitening strips were professionally developed and formulated by a dentist to meet rigorous standards. Not only are they more affordable than in-office bleaching, but they are also way less messy than custom trays. 
Developed using the best and most innovative PAP technique, these whitening strips dissolve in the mouth on their own. All you need to do is apply them twice a day after you brush your teeth, and they'll dissolve in 10-15 minutes without the need for any further action from you. 
In as little as two weeks, Icy Bear whitening strips can make your teeth up to seven shades brighter. Plus, unlike many other whitening products available on the market, these whitening strips contain no harmful bleaching agents and don't cause tooth sensitivity. Another advantage of using whitening strips is that you have full control over how white your teeth will be, and you can stop at any point once you feel that you're satisfied with the results. So when you go with Icy Bear, you can get the same effect as from professional whitening for £39.99.
If you want to prolong the results of the procedure, try the Icy Bear Power Smile Bundle, which includes whitening strips, a sonic toothbrush, and whitening toothpaste.
Generic Whitening Trays
In addition to the customised whitening trays you can get from your dentist, you can also purchase generic whitening trays from many brands at your local supermarket or pharmacy. These are made from flexible material that fits around the teeth and sits in place while your teeth get whitened by whitening agents contained in the gel. Keep in mind that generic whitening trays are less common than whitening strips, so you may have a more difficult time purchasing them.
Conclusion
Before choosing what type of whitening treatment you want to go with, think about how quickly you want your teeth whitened and what your budget is. You can choose a whitening treatment that includes a dentist's supervision or do it at home by yourself. At-home whitening treatments are more affordable, and if you choose a reliable brand, you can achieve the same results as if you had professional bleaching. If you have sensitive teeth, then whitening products with products that contain hydrogen peroxide may not be the best option for you. If you want to go with the safest method and see gradual results, then Icy Bear whitening strips that use enamel-safe PAP technology are the #1 option for you.
FAQs
How often can I use whitening strips?
If you follow all the instructions and finish your treatment as advised, the results should last you between six months and a year. Thus, you will need to apply whitening strips 1-2 times a year at your own convenience.
Is it OK to use whitening strips every day?
Yes, when doing a two-week treatment, you will need to use whitening strips once or twice per day every day. However, if the whitening strips you use are not dissolvable, make sure that you take them off right after the time stated in the instructions passes. Overtreating your teeth with whitening strips may cause enamel damage.
Should I brush my teeth after whitening strips?
It's not necessary, but you can brush your teeth after applying whitening strips. But make sure to do it very gently to avoid irritating your gums and teeth.
Collection 2019
Sale 70% Off
Third slide